July 01, 2014
Edifix Shortlisted for ALPSP Innovation Award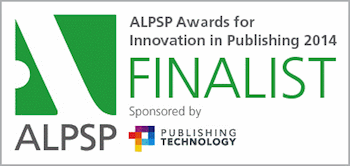 Edifix is proud to announce that we have been shortlisted for an ALPSP Innovation Award! This is an honor and a testament to the dedication of our team. The theme of this year's awards is "Innovations in Publishing," and we believe that Edifix well represents what is possible in our field.
We've taken years of experience with creating Word-based editorial tools for scholarly and government publishers and ported out our most popular reference tools to create a flexible and powerful web-based solution with Edifix. Now we can offer our services to editors of all types, smaller journals, students, and others who do not need our full suite of editorial and XML tools. Best of all, this tool is fully scalable and can be put to work for users of all kinds who need structured output from free text bibliographic input. We are excited to see already how our users are improving their workflow thanks to Edifix.
Further, Edifix also serves as a welcome bridge from free text to RIS format, used in many popular references managers like Mendeley, Zotero, and EndNote. Now researchers and authors and others can take a long list of free text references and transform them into a format that easily streams into reference managers for use. The possibilities for Edifix are multitudinous, and we can't wait to see how you will use it!
We would like to thank the ALPSP for honoring us in this way and also congratulate our fellow nominees. The winner will be announced at the ALPSP Conference Awards Dinner on September 11, 2014. For more information, visit the ALPSP Annual Awards website.